WE DON'T JUST DRIVE TRAFFIC. WE DIRECT IT TO YOUR DEALERSHIP.
We've worked with dealers of imports and domestics in the Northeast and Southeast to help elevate their brand and exceed sales goals. With proven media-buying and creative systems in place, Viamark will help direct the very best traffic to your dealership. To learn more and see our full portfolio of creative samples, CONTACT US
AUTOMOTIVE CREATIVE SAMPLES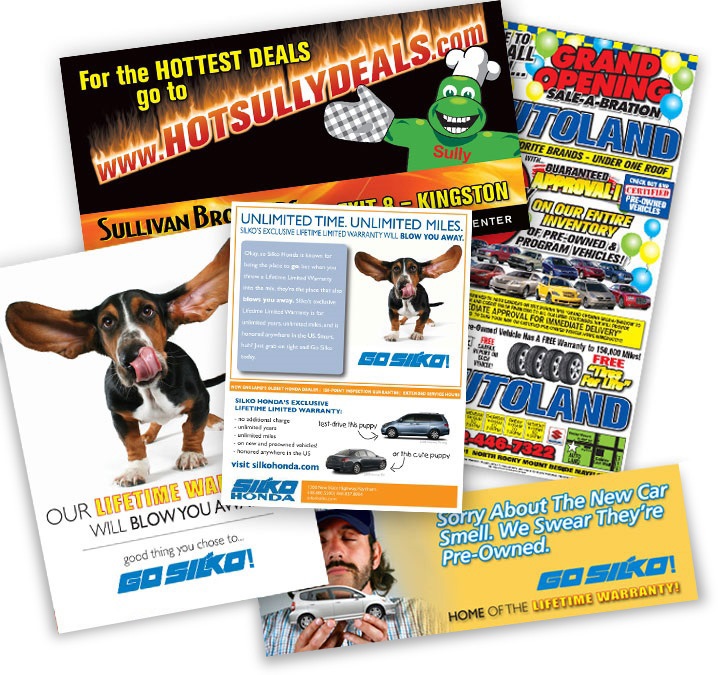 AUTOMOTIVE CASE STUDIES
SILKO HONDA
NEED: When we first partnered with Silko Honda, the dealership's ad budget had been climbing, while sales had hit a plateau. They were looking to make a change, and came to Viamark. The dealership was in a geographically challenging location, sitting on the border between the Boston and Providence markets, making media selection a challenge. The message was vague, and they had limited name awareness against some of the biggest dealerships in the market.
APPROACH: Viamark conducted research on viewers and listeners in each market and focused the media strategy. The ad budget came down, but Silko received more exposure through the media buying strategy we put in place. We focused the creative message and branded their name through "Go Silko!" sing in/sing outs and "Go Silko" chants. The campaign was initiated through a high frequency media buy, and immediately they saw sales increase and customers were responding to the new creative. Silko became a recognized name in the market. Over time, the campaign expanded through unique programs we brought them, like their exclusive Lifetime Warranty, and in-store marketing of Go Silko! and their Lifetime Warranty program.
THE RESULT: Unit sales immediately increased upon the campaign launch, while the ad budget was brought down to an acceptable level. Customers came in talking about their ads and still reference "Go Silko" today. Five years later, 2 new Honda points have opened within 15 miles of the dealership. However, Silko Honda's unique message, solid brand, and exclusive offerings have helped them maintain a solid position in the market.
SANDERS FORD
NEED: Sanders Ford had a goal to go from selling 90 cars per month to 180 cars per month, doubling their sales.
APPROACH: Viamark created a strong radio and billboard campaign in addition to their existing print marketing.
THE RESULT: Sanders Ford now sells an average of 200 cars per month.
TESTIMONIALS
For us, it's not a "dealership," it's a partnership. See why our 20-year-old partnership with this client is still going strong.
What makes Viamark unique? Just ask Silko Honda, a happy client for over 6 years and still going strong.
We have experience placing media in over 200 markets across the country