WE USE POWERFULLY EMOTIONAL CAMPAIGNS TO GET THE MESSAGE OUT SO OUR HEALTHCARE CLIENTS STAND OUT.
With our proven creative tactics and unique TraDigital media buying strategies, we've helped hospital systems and medical practices large and small achieve their branding and patient-growth goals.
Please View Our Demo Reel
HEALTHCARE CREATIVE SAMPLES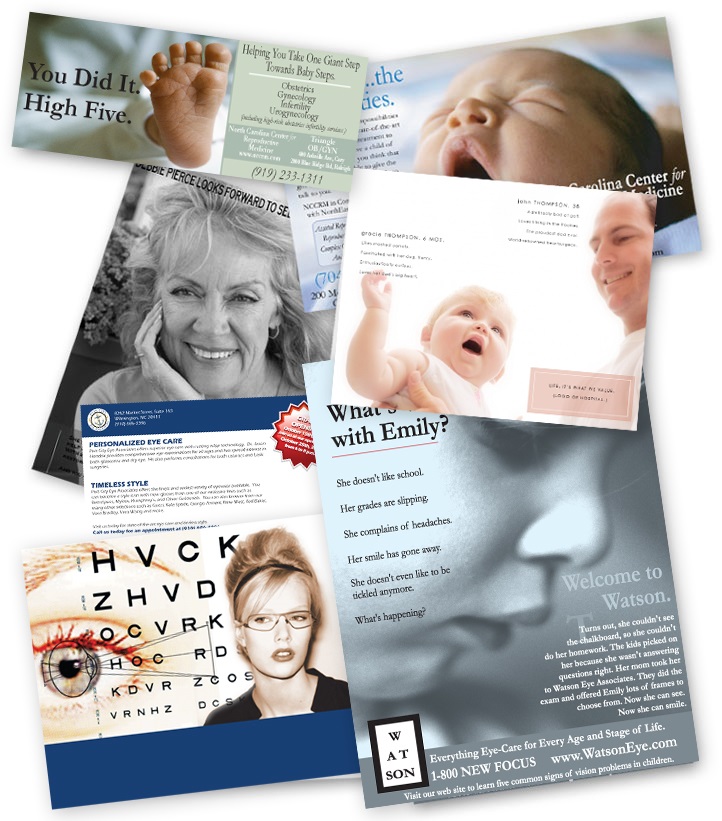 HEALTHCARE CASE STUDIES
NCCRM
NEED: The North Carolina Center for Reproductive Medicine generates patients through phone inquiries. When they came to us, they wanted an increase in call volume.
APPROACH: Along with an emotionally charging radio campaign, Viamark Advertising created a 1-800 number that was both easy for the listener to remember and 100% trackable.
THE RESULT: NCCRM went from 30 calls per month to over 500.
Cape Fear Valley Health System
NEED: CFVHS needed a nurse recruitment campaign. Their goal was to hire 100 nurses in 100 days.
APPROACH: Viamark Advertising initiated a four-month multi-market radio and television campaign to achieve their goal.
THE RESULT: CFVHS hired almost 200 new nurses and 60 allied health professionals. Their success was published in industry trade magazines and four years later they are repeating the campaign.
Clinical Trial For A New Ragweed Medication
NEED: Enroll 1,000 patients in 3 months for 76 sites in 37 cities.
APPROACH: A three month radio and TV campaign in our target cities.
We utilized a specific patient recruitment media buying strategy to determine appropriate market budgets and generate the necessary calls for each site. The commercial drove potential patients to an 800# or website for screening.
THE RESULT: Over 7,596 respondents who completed the initial screening process came as a direct result of the advertising campaign. The client enrolled a total of 1,000 patients before the enrollment deadline.
TRIANGLE SPECIALTY CARE
NEED: Triangle Specialty care needed to drive meaningful traffic to their new medical practice specializing in aesthetic wellness.
APPROACH: With a trackable phone number and emotional radio campaign, Viamark drove potential patients to the practice.
THE RESULT: In just four months their call volume from advertising increased from 20 calls to over 130 calls per month.
WATSON EYE ASSOCIATES
NEED: Watson Eye needed to grow their child patient base through an event called "Vision Fun Day" featuring free eye screenings for children.
APPROACH: Viamark helped increase media exposure and on-site support, which increased attendance.
THE RESULT: Screenings went from 285 to 510. 35% of patients screened needed further evaluation.
SOUTHEASTERN FERTILITY CENTER
NEED: Their goal was to sign up 25 couples for a fertility seminar. In the past the client had only tried radio sporadically to recruit patients.
APPROACH: Viamark revised their current radio schedules and increased their reach and frequency for the same budget.
THE RESULT: Of the 30 couples that registered 24 couples attended the seminar and 9 couples became fertility patients of the center.
We have experience placing media in over 200 markets across the country