Restaurant and Food & Beverage Industries
OUR MADE-FROM-SCRATCH APPROACH OFFERS CUSTOMIZED MESSAGES FOR RESTAURANTS, BIG AND SMALL.
Your advertising should be as unique as the dishes you serve.
At Viamark Advertising, we've helped restaurant groups large and small achieve their branding and growth goals with much success. We can help you do the same.
RESTAURANT/FOOD & BEVERAGE CREATIVE SAMPLES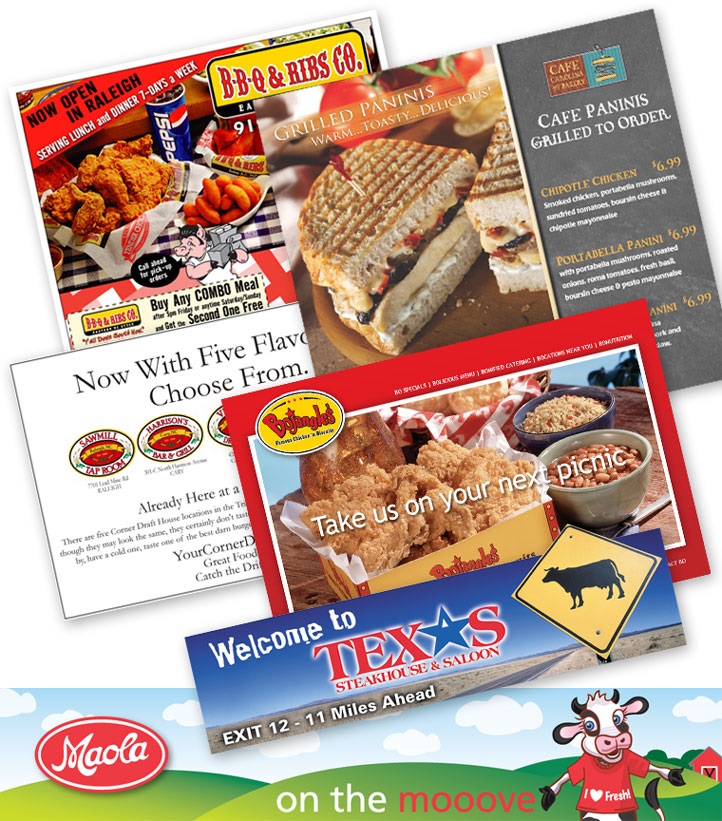 RESTAURANT/FOOD & BEVERAGE CASE STUDIES
TEXAS STEAKHOUSE AND SALOON
NEED: Texas Steakhouse needed to increase ride participants and fundraising efforts for their motorcycle ride benefiting the Make-A-Wish Foundation.
APPROACH: Viamark utilized our local media partnerships to acquire hundreds of psa's, local dj endorsements and live radio remote broadcasts to create more effective awareness for the event.
THE RESULT: Viamark was able to grow the benefit ride from an average of 50 participants to over 700.
BOJANGLES FAMOUS CHICKEN AND BISCUITS
NEED: Bojangles' needed a local agency to coordinate their expanding marketing efforts for their growing franchise group.
APPROACH: In 1995, Viamark signed on to create more effective media buying and placement strategies as well as, dramatically increasing the client exposure in the market.
THE RESULT: Over the years, the client has gone from operating 17 local restaurants to over 65, and is the number-one grossing quick-serve restaurant chain in eastern North Carolina.

Locally, Bojangles' outsells national chains McDonald's, Wendy's, Burger King, Hardee's and KFC by a margin of almost 2 to 1
We have experience placing media in over 200 markets across the country